SOLID ABSORBENT® TECHNOLOGY = SUPERIOR PERFORMANCE
Better for the Environment
Micropore, Inc. 2020 Champion of Maryland Manufacturing
SCALING PRODUCTION IN RESPONSE TO THE CHALLENGES OF COVID-19
Micropore, Inc. located in Elkton, Maryland, is a manufacturer of reactive plastics which incorporate various powders into a molded matrix including products that are used as a CO2 absorbent powder and formed into a cartridge to create an absorbent and life supporting system. Through the use of these proprietary technologies and capabilities, Micropore is working to innovate filtration for ventilators and other medical and clinical applications in an effort to support the response to the COVID-19 pandemic.
Micropore manufacturers filter cartridges and material that are used in several different ventilator technologies. The COVID-19 pandemic created a surge in demand for these filtration materials to support the Personal Protective Equipment and Critical Medical Device supply chain. To meet this challenge, Micropore identified a need to increase production capacity, add new technology and equipment to support the process and secure capital to support the short-term and long-term growth of the operation.
In response to the challenges identified, Micropore engaged Maryland MEP to provide programmatic and strategic support through a sub-recipient arrangement where MD MEP and Micropore would work collaboratively to increase production capacity. Through this partnership, Maryland MEP helped Micropore secure $100,000 in grant funding from the State of Maryland's Manufacturing Innovation Grant. The projected resulted in the design and installation of more than $100,000 of automation equipment to increase production capacity by 33%, even hiring a third shift crew, and enabling the organization to meet the critical demand for the COVID-19 response.
These sponsors would like to congratulate this 2020 Champion of Maryland Manufacturing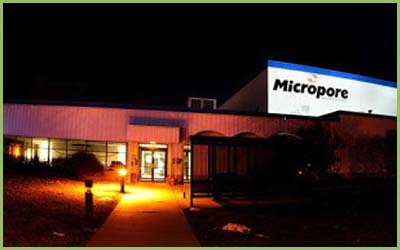 Lt. Governor Rutherford Leads Maryland Delegation to MEDICA 2021 Trade Show in Germany
Micropore, Inc. 2020 Champion of Maryland Manufacturing
Micropore, Inc. Closes $12M Investment and Debt Restructuring round Led by Phoenix Venture Partners
Micropore receives ISO 9001:2015
Micropore signs partnership agreement with TPG
Lt. Governor Rutherford Leads Maryland Delegation to MEDICA 2021 Trade Show in Germany
Medical forum attracts thousands of exhibitors from more than 50 countries across the globe
BALTIMORE, MD (November 16, 2021) — Lt. Governor Boyd K. Rutherford is leading a delegation of 10 Maryland companies this week to MEDICA 2021, the world's largest medical trade show in Dusseldorf, Germany, which typically attracts more than 120,000 attendees from around the world. This is the 11th year that Maryland, through the Maryland Department of Commerce Office of International Investment and Trade, has participated in the global trade show as part of an ongoing strategy to boost trade and promote the state to overseas businesses.
"MEDICA is an excellent opportunity to meet with some of the world's top leaders in health care and promote Maryland as a prime destination for doing business," said Lt. Governor Rutherford. "Maryland is home to a thriving medical industry providing invaluable support to hospitals, research facilities, and private practices. I am excited to once again lead a delegation of outstanding companies as they pursue opportunities in the global marketplace and contribute to economic health and innovation in Maryland."
During MEDICA, Maryland will host a 72 square-meter booth, or 775 square-feet, to demonstrate company products and services at the show.
The Maryland companies traveling to MEDICA this year include:
20/20 Gene Systems (Rockville)
Hawkeye Medical (Lanham)
Health Kiosk for All, Inc. (Forest Hill)
Longeviti Neuro Solutions (Cockeysville)
Medispec (Gaithersburg)
mdlogix (Baltimore)
Micropore, Inc. (Elkton)
Pindox Pharma, Inc. (Gaithersburg)
Supplema, LLC (Hunt Valley)
Tetracore (Rockville)
"Some of the world's most innovative biotechnology and life sciences companies, as well as medical research facilities, are located in Maryland," said Secretary Kelly M. Schulz of the Maryland Department of Commerce. "Attending MEDICA will not only show off our state and assets to an international audience, but it will also give our local businesses exposure to numerous decision makers throughout the medical industry."
Nine of the 10 companies traveling as part of the delegation are attending MEDICA for the first time, including mdlogix, which is participating with assistance from an ExportMD grant. The company developed a comprehensive software platform that health care providers can use to evaluate and treat individuals with behavioral health concerns in a variety of settings, including schools, hospitals, and businesses.
"The global COVID-19 pandemic has increased reports of anxiety, depression, and deaths by suicide around the world, including among children and teenagers," said psychiatrist Allen Tien, MD, MHS, mdlogix president and chief science officer. "Our software solution helps providers in Maryland, in the United States, and in other countries to improve, accelerate, and scale prevention, early intervention, and acute treatment programs. We are saving lives with our clients."
MEDICA 2021 runs from Nov. 15 through Nov. 18. Since 2013, members of Maryland's MEDICA delegation have generated more than $40 million in new export sales as a result of business transactions and connections made during the trade show.
Micropore, Inc. Closes $12M Investment and Debt Restructuring round Led by Phoenix Venture Partners
Micropore receives ISO 9001:2015
Micropore signs partnership agreement with TPG
The solution to
all

problems with granular absorbents

fine powder chemistrIES PACKAGED FOR PERFORMANCE